iHACapp
iHACapp stands for intelligent Hygiene And Cleaning application. It is the new centre of hygiene, offering an easy to use all-in-one solution: custom cleaning plans, instructions, data registration, dosage system connection and product information. All in once device.
Download the app now


APP Overview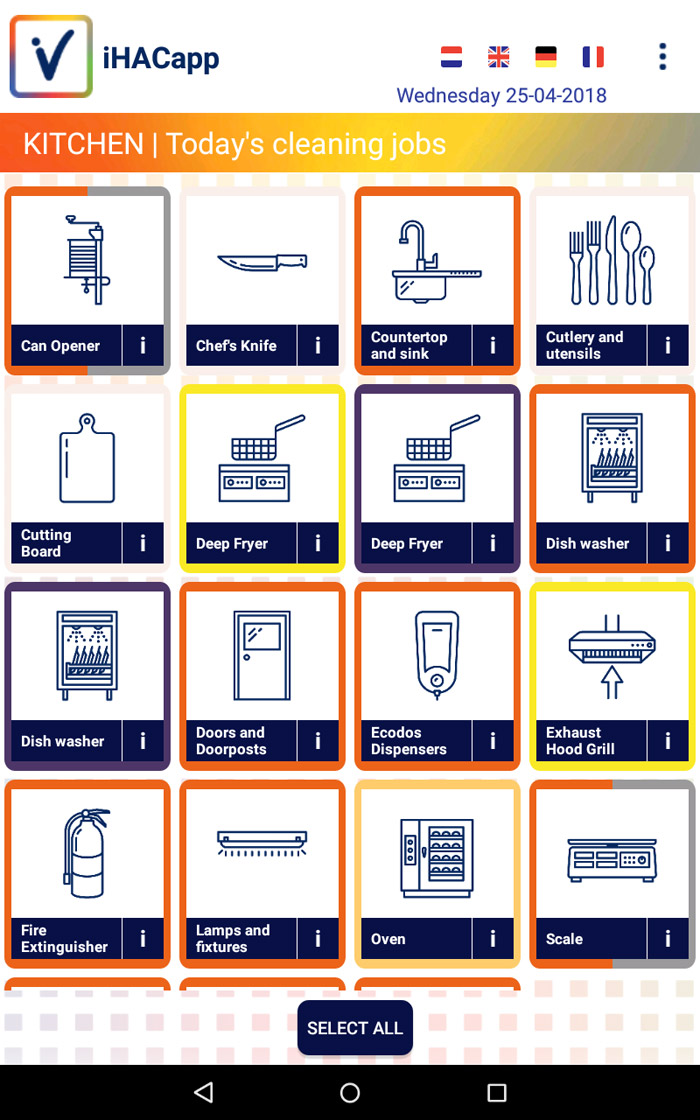 Features
All-in-one solution
Cleaning plans

Instructions

Registration
User friendly
Colours and icons

Simple user interface

Multiple languages
High tech
Fully customisable

Suitable for every smartphone

Printable pdf's available

iHACapp
The intelligent centre of hygiene
Centre of hygiene
iHACapp is the jumpstart for an important movement in the world of kitchen and building cleaning: and intelligent system becoming the centre of hygiene. The patented application ensures that all relevant information and knowledge is available where they are needed most. iHACapp combines all operational information: from cleaning plans and instructions up to registration and product information. Additionally it generates all data required for proper cleaning and hygiene management..

Time and cost saving
iHACapp leads to significant time saving in production and management. Cleaning staff easily find their way through the appropriate cleaning plans, and the time to register their activities is significantly reduced compared to the usual paper work. On top of that, managers have access to a complete set of data, which enables them to analyze, operate and communicate much more efficiently, saving valuable time and at the same time improving quality. The product need can be predicted by distributors ensuring a more efficient logistic footprint and exceptional service.
Improving hygiene
In a world which is getting more transparent, you cannot take any risk by cutting back on hygiene. A quick glance at the system makes it crystal clear for the cleaner to know what his cleaning tasks are. When finished, he can check off his tasks with a single tap of the finger. The application works with a set of clear and unique icons and colours (corresponding with the products) and has multiple languages available.

Download the app
Download the free App in the App Store or Google Play. To use the iHACapp you need to have an URL or QR code generated by your cleaning supplier. Scan the QR code or paste the URL in the app. You are now ready to clean. Just simply tap the object you have cleaned and save or press on i for more information. If you do not have a cleaning supplier, please contact us.
Contact us
Object missing